In a working forest we don't just plan for tomorrow,
we plant it.
What is a Working Forest?
Working forests are forestland carefully managed by foresters, engineers, scientists, and harvest managers to provide a steady, renewable supply of wood for daily use. Responsible stewardship is the hallmark of a working forest.
25-60 years spent caring for the trees we plant

More than 1 billion trees replanted in working forests every year

[Source]

Less than 2% of working forest land is harvested each year

[Source]

2.9 million jobs supported by working forests in the U.S.

[Source]

514 million acres of working forest land in the U.S.

[Source]
What does stewardship mean to us?
Working forests move at the speed of trees. Our stewardship over the forest is a decades-long commitment to the hundreds of millions of trees planted by the generation before us. We employ biologists, hydrologists, geologists, ecologists and more to make sure working forests are as healthy and productive tomorrow as they are today.
It's why we harvest on schedules planned decades ago, and plant seedlings throughout the years to continue the cycle that sustains our business. Responsible stewardship isn't just the right thing for us. It's the only thing.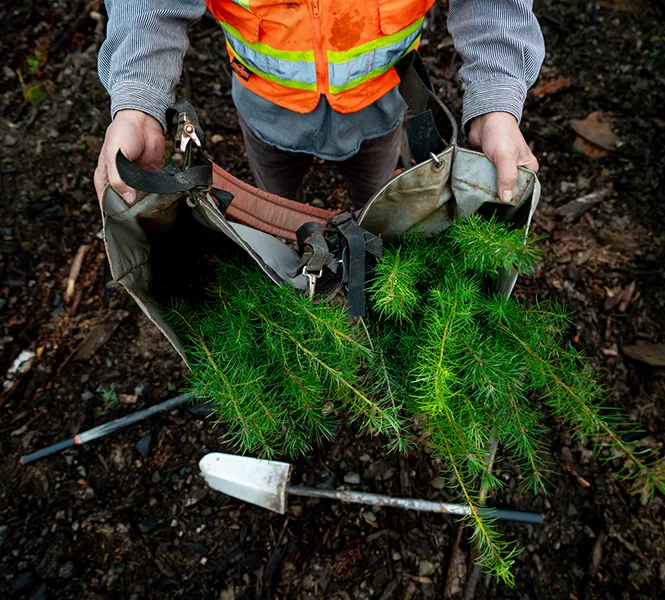 "My family's been at this for three generations. I've harvested trees my grandfather planted, I've harvested trees from my dad's generation and hopefully going forward."
– Greg Schmitz,
Working Forest Harvest Co-Manager
"A sustainable forest management strategy aimed at maintaining or increasing forest carbon stocks, while producing an annual sustained yield of timber, fiber or energy from the forest will generate the largest sustained mitigation benefit."

UN Intergovernmental Panel on Climate Change August 2019 Special Report